FEBRUARY 26, 2014: NEW BEGINNINGS
It's time to dust off the ol' Taylor and play some tunes! (Actually, Ashley and Patasse have been playing regularly at the Vinoy Hotel in St. Pete over the past two years. Check out upcoming dates on the
SHOWS
page.)
We are very excited about our upcoming House Show here in Tampa. Join us Friday, March 14th, 7:00PM-9:30PM, at the Henley's House, 4007 Carrollwood Drive, Tampa, FL 33618. There will be new tunes and old favorites. The more the merrier, so please spread the word and bring friends. Let's pack the house!

APRIL 7, 2012: AND JUST LIKE THAT, EVERYTHING CHANGES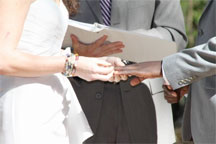 So much has happened since Thanksgiving. Young Life events, the holidays, a last minute gig at The Hideaway Cafe, a wedding...
Yes, it has been a busy season. And there are more exciting things to come! For the third year in a row, Ashley Jones has been selected to showcase at the Florida Music Festival in Orlando! This year, of course, will be extra special with the addition of percussion by Patasse Muhire! Here are the details:
Saturday, April 21st
8:30 p.m.
The Gibson Showroom
25 E. Central Blvd, Orlando, FL
For more info, go to
www.floridamusicfestival.com

NOVEMBER 24, 2011: A THANKSGIVING POST
"What am I thankful for?" I asked this question at the beginning of a song I wrote many years ago. It was a song written during some of the darkest, most difficult days of my life, and in those 4:23 I tried to express how confusing gratefulness can be when times are hard, when life isn't going as planned. Anyone who has experienced deep loss knows that some of the happiest times in our lives are also the saddest. The holidays are exactly that for so many. They are a reminder of how far we've come, of all we've had to leave behind, and hopefully of all we have to look forward to.
In the recent months, I've had several incredible opportunities that have shed some light on where the road I'm on is headed. I am so thankful for
Young Life
, for my friend-since-Kindergarten, Alissa Holcomb, who asked me over and over again until all the scheduling and planning fell into place for me to lead music and share my songs at a Young Life event. This Fall I participated in three YL retreat weekends and in December will attend my first Windy Gap camp in the mountains of North Carolina - an invaluable opportunity to share my story and my music. These opportunities, plus random surprises like finding out the instrumental version of "New York is Like a Boyfriend" played on an episode of The Real World earlier this year, are the not-so-subtle reminders that we never know what new blessings will meet us each day. I am grateful for all the unknown still ahead, and I cannot wait to share with you what that unknown will bring.
If you are in the Tampa area and don't have a church you normally attend on Christmas Eve or Christmas morning (since Christmas is on a Sunday this year), I would like to invite you to
Idlewild Baptist Church
. I've been asked to sing a song I wrote called "He Came" - written when I was in college but rearranged this year. I am beyond excited to share this very special song with so many people.
I hope you all had a wonderful Thanksgiving. The best is yet to come.
Love,
Ashley

JULY 11, 2011: A BIRTHDAY POST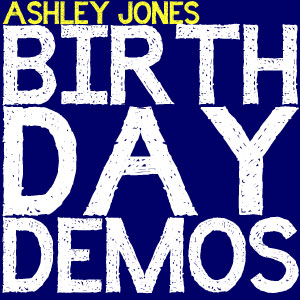 Today I turn...well, that's not important. It's my birthday, and I would love nothing more today than to share some music with you! Available now on
Noise Trade
, new songs ("Slipping Away", "Love is Good", "The Luckiest Kid") plus a fresh take on an Ashley Jones oldie, "Selling Out" on the ukulele!! Please download and share!! Thank you for all your love and support, but most of all for listening...
Here's hoping this year brings a lot more music!

APRIL 14, 2011: VIDEOS FROM THE FLORIDA MUSIC FESTIVAL
Last weekend was amazing! Thank you to everyone at Tasting's for making this such a special night! And for those who couldn't make it, have no fear... We recorded it!! First, let's start at the end. Check out "Skinny Mirror", a classic set-closer I wrote in college. It was time for it to make a comeback. (After all, the message of "Skinny Mirror" is still relevant today.) Next, a new one called "Slipping Away". And finally, a sample of the rest of the night with some special shout-outs at the end. Enjoy!

APRIL 5, 2011: THERE IS HOPE IN A HEART THAT ONCE HAD NONE
This weekend I sang at a memorial service for a man I never met. His wife heard me sing "There Is", a song inspired by genocide survivors in Rwanda, a few weeks back when I was filling in for the music director at her church. The wife contacted me a couple of days later asking if I would sing the song at a service for her husband, who had passed away suddenly. I said yes, but it seemed strange to me that she would ask about this particular song. When I sing "There Is", I picture the faces of those who inspired it, Immanuel and Juliette at the Murambi Genocide Memorial, the young woman and her baby in the maternity ward of Kigeme Hospital. I picture the children of the Hareb Choir who sing the chorus in Kinyarwanda on the version recorded for
The World Should See Her Face
. I cannot separate these images from the lyrics when I sing "There Is".
"There Is (feat. Hareb Choir)"
This time though, something changed. I processed the lyrics with a brand new perspective. I was reminded that the lesson I learned in Rwanda is one that applies to each of us on many levels, not just when something as catastrophic and unfathomable as genocide happens. Wherever there is suffering, hardship, death or injustice in any degree, we cannot count out that there is still love, hope, peace and the opportunity for forgiveness. We cannot avoid sadness. We cannot escape death. But we can love each other, we can have hope, we can find peace, and we can forgive. It was an honor for me to share "There Is" at the memorial service, and I was so humbled that this mourning family found comfort in its message.
To my friends in Rwanda, I hope that you will read this and know that your story is impacting people all over the world. Your story is inspiring!
This week marks the anniversary of when the genocide began in 1994. My friends in Rwanda will participate in a mourning period that will last over the next two weeks. It's a time to reflect, to remember. Let's join with them and pray for the future of their beautiful country.
To listen to the live version of "There Is" recorded on Songs About Falling and other music from Rwanda, go to the recordings page. To read the lyrics of "There Is", click here.

APRIL 1, 2011: THIS IS NO JOKE, THE NEW ASHLEYJONESMUSIC.COM IS LIVE TODAY!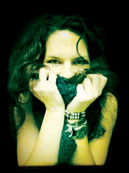 Welcome to the new AshleyJonesMusic.com! We have been working hard to get this new site up and running, and it is finally ready! There is so much for you to check out...like the all-new
bio page
for background info, the
press page
with show reviews and other articles and interviews, and the
recordings page
with a full listing of albums for sale (plus, that's where you will find the full music player to listen to all the tunes)!
Thanks for stopping by! New music coming in May, so stay tuned!!

ASHLEY JONES RETURNS TO THE FLORIDA MUSIC FESTIVAL, APR 8 2011
Hey Florida! For the second year in a row, Ashley Jones has been selected to play a showcase at the
Florida Music Festival
. If you are in Orlando area, you can't miss this! It's a full weekend of Florida's finest! Ashley's showcase is Friday, April 8th at 10:15pm. Check out the
shows page
for all the details. See you there!

"THE LUCKIEST KID"
Words & Music by Ashley Jones
There were several beautiful babies born in the last months of 2010. This song is for them and their mothers, my childhood friends. Check out more music on the
recordings page
.

Two BRAND NEW songs from last month's gig at The Living Room!
"LOVE IS GOOD"
Words & Music by Ashley Jones
"SLIPPING AWAY"
Words & Music by Ashley Jones



JANUARY 11, 2011 | HAPPY NEW YEAR!
Happy New Year! I am very excited about all that 2011 has in store. First on the agenda is upgrading this site. One of the new features will be lyric videos. Here's the first one for "Songs About Falling"...
Also, I hope you've enjoyed the new tunes on ukulele. The latest is "The Luckiest Kid", a song dedicated to the children of my childhood friends. Four of them were born in the last few months of 2010 (talk about inspiration!).
Let me know
what you think.

SEPTEMBER 8, 2010 | NEW YORK IS LIKE A BOYFRIEND VIDEO
A little tribute to NYC after an amazing week filled with a last-minute gig at The Living Room with Justin, Paul & Robert, some dancing on the Brooklyn Bridge, and enjoying some Mr. Softee in Times Square. There's no place like New York City for a spontaneous good time!

AUGUST 20, 2010 | ASHLEY JONES ON TBO.COM
A very big THANK YOU to Curtis Ross and The Tampa Tribune for this great article,
Local singer hopes to win fans at 'Fill-ith Fair'
, featured on TBO.com the day of Fill-ith Fair. And thank you to everyone who came out to PLAY Ybor in support of all the local female artists from the Lilith/OurStage competition. It was a great night!

JULY 26, 2010 | FILL-ITH!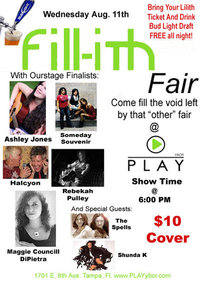 To fill the Lilith-sized hole in our hearts, come on out to Ybor for an amazing show featuring OurStage finalists Ashley Jones, Halcyon, Rebekah Pulley, Someday Souvenir and The Spells! Bring your canceled Lilith Fair ticket and drink domestic draft beer for FREE all night! This is going to be a great show! Showtime: Wed. Aug. 11th, 6PM, $10
PLAY is located at
1701 E. 8TH AVE, Tampa, FL 33605
.

JULY 2, 2010 | NEWS FROM LILITH FAIR
First of all, thank you to everyone who voted throughout the month of May in the OurStage/Lilith Local Talent Search! After a long month of voting, we finished at #1!!! Unfortunately though, after another long month of waiting on the official word from the Lilith team and hearing many rumors about cancellations due to poor ticket sales, the fate of the Tampa/West Palm dates was officially sealed yesterday with word from Lilith Fair that those, along with eight other tour stops, are officially canceled.
Disappointed doesn't even begin to describe how I feel about this. But even without a prize I still feel like a winner. I cannot thank you all enough for your support. I am so grateful for all of you who voted (and voted and voted)!! THANK YOU SO MUCH!! Your support has made all of this madness totally worth it, and because of your support I am certain that there are other good things ahead!!

MAY 3, 2010 | LILITH FAIR TALENT SEARCH
Something really cool is happening and I need your help!! The legendary Lilith Fair tour is back this summer, and there's a contest for local bands to play at each stop along the way. I am registered in the contest for the West Palm/Tampa, FL shows. This would be an amazing opportunity to not only play for an awesome, music-loving crowd, but also to rub elbows with so many of the female singer- songwriters and performers who have inspired me for years. Here's how you can help make it happen! ...
1.) Sign into Facebook (It's just a FB app to vote!)
2.) Go to
www.ourstage.com/go/lilithflorida
3.) Click "Judge as a Fan"
4.) Click "Lilith Local Talent Search: West Palm/Tampa" (It's the one at the very bottom and is sometimes cut off.)
5.) Go to the Artists tab and make Ashley Jones your "favorite"!
6.) Now, for the judging, it's a bit tricky. You can judge four at a time or do head-to-head judging. You have to listen to each track for at least 15 seconds and then rank the four in order. If you've made Ashley Jones a "favorite", then I should come up as an option for you eventually. My song in the contest is "It's Not Love".
I can't express how much I appreciate your help with this. Some of you have already been at it on Facebook. Keep up the good work :) Keep voting, posting, tweeting, and whatever else you can do to get the word out!!! The contest lasts through the whole month of May. This weekend I got up to 4th place, but the judging has heated up...
Let's do this!!
Love,
Ashley

APRIL 5, 2010 | FLORIDA MUSIC FESTIVAL DETAILS!
It's official! Mark your calendars for Saturday, April 24th at 7:00PM, because that's when Ashley Jones will be playing at the festival!! The Acoustic Cafe is Cafe Annie, located at 131 N. Orange Avenue, Orlando, FL. It's the closing night of the festival, so a great night to come out and listen to good music all night long in the Sunsine State! See you there!

MARCH 29, 2010 | LOTS OF GREAT NEWS!!
2010 is already shaping up to be an awesome year! Here are just a few cool things happening so far...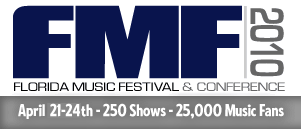 Ashley Jones has been selected as a Showcasing Artist for the Florida Music Festival in Orlando, April 21-24th! Yeah!! Place and time details are coming soon, so stay tuned! If you're in Florida (or if you're in need of a tan), come on out and support music in the Sunshine State. Go to
www.floridamusicfestival.com
for festival details.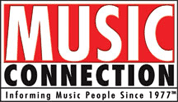 Ellen Woloshin from
Music Connection Magazine
came out to The Living Room in NYC on February 6th, 2010. She wrote a really kind review for the March edition of the magazine (page 52). Here's an excerpt...
"On a cold and blustery New York City night, Jones played to a packed room at one of New York's premier venues. She immediately engaged the audience with stories and songs recounting her time in Rwanda, which added a unique spin to her show... Jones' straightforward and powerful delivery will certainly continue to win her many fans and solidify her place in the live circuit."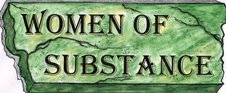 And finally, Women of Substance radio has added "It's Not Love" to the "Spotlight on Great Songs" Show! Check out the station at
www.womenofsubstanceradio.com
.
And it's only March!! This is only the beginning of things to come! (Like a chance to perform at Lilith Fair 2010. Fan voting starts soon for independent artists to open in their hometowns. Check it out
here
. More details coming soon!)

MARCH 1, 2010 | AN EDUCATION IN ROCKIN'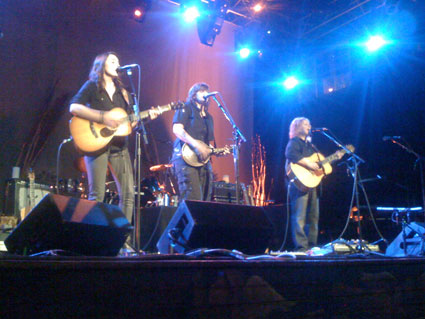 Last week I had the opportunity to see Brandi Carlile and the Indigo Girls perform at the House of Blues in Orlando. This was my second time seeing the legendary Indigo Girls take the stage and in turn lead a room full of people in one giant sing-a-long. All it takes in one strum of the guitar and every fan in the crowd knows what's coming. It's magical. Just the two of them and whatever instrument the song calls for is all it takes. I was prepared for that. I knew they would put on an awesome show, and they did.
What I wasn't prepared for was Brandi Carlile. I'd heard a few of her songs, particularly "The Story" where her voice cracks at just the most pivotal moment making music magic of her own, but that was just one of many incredible moments she created on stage with her unmatchable voice and energy. I watched her entire set on my tiptoes. It was so inspiring and challenging at the same time. I wanted to run home and start rehearsing right away for my next performance.
A set from Brandi, a set from the Indigo Girls, and then an incredible 45-minute encore of music together. Three hours later and I left the venue wishing they'd played three more. Well, my feet were happy it was over, but the rest of me wasn't done taking notes on how to be a rockin' female singer-songwriter. I can't wait to take everything I learned onto the stage!

FEBRUARY 23, 2010 | A RECAP OF A GREAT WEEK
I love hitting the road to play gigs. I love airports, aisle seats, and taxi cabs. I don't love airline policies, heavy guitar cases and blizzards. I got a little dose of all of this on my latest adventure sharing "The World Should See Her Face" with well, the world.
First stop, Dallas. I love Texans; they take care of people, you know? I went to Dallas to speak with a group of students planning a trip to Rwanda in the coming months. It was so much fun to share the new music inspired by Rwanda with them, as well as stories from my journey there and tips for their upcoming adventure. I hope to do more events like this in the future. I was only in Dallas for about 14 hours, but it was time well spent and I can't wait to go back!
Next stop, NYC. Because of the ridiculous snowstorms, I had to change my flight out that morning to one that put me at the airport at 5AM. That was no fun at all, but it got me over the blizzard and into Manhattan with enough time to rest up for the gig that night at The Living Room. What an incredible night! I was so overwhelmed by the crowd of people who came out in the cold to welcome me back to my home away from home, New York City. I love sharing new music with the friends and supporters who have been listening from the beginning, those who have cared about my story and where I'm headed. I love you all so much. After playing the new stuff from Rwanda, Justin, Robert and Paul joined me on the last couple of songs. I can't explain the feeling that went through me when we all played together. We hadn't rehearsed; we hadn't all even been in the same room since the last show before I left for Rwanda. These guys are such talented musicians. I cannot wait to play with them again.
The rest of my time in NYC was spent catching up with friends, eating at all the restaurants I've been missing, and sharing more stories and songs every chance I had. I'm back in sunny Florida now (although it's not as warm here as I wish it was) and looking forward to some more chances to share about Rwanda right here at home. Stay tuned for details :)

JANUARY 20, 2010 | TIME FOR SOME NYC
First of all, I just want to say thank you to everyone in Tampa who came out to Skipper's last weekend. It was a rainy night in Tampa Bay, but we still had a whole lot of fun. Thank you for being there!
Now to my friends in NYC... I cannot wait to be back in my favorite city in the world to share songs and stories from Rwanda and the new EP "The World Should See Her Face" (and some tunes from "Songs About Falling" too). The Living Room is my favorite venue. I can't wait to see you all there on Saturday, Feb. 6, at 9PM! The more the merrier, so bring friends! See you soon, NYC.

JANUARY 11, 2010 | ON THE RADIO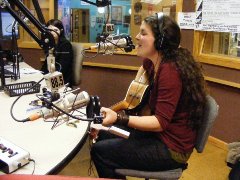 On Monday night, January 11, 2010, I had the chance to sing a few songs on Tampa's
WMNF 88.5FM
. It was a whole lot of fun. I got to talk about Rwanda (a subject I've yet to run out of things to say about) and even Dolly Parton (my first idol), plus I performed "Those Hills" and "It's Not Love" live in the studio. The show was hosted by a super nice guy named Flee. He's on-air at WMNF every Monday starting at 4PM, so check him out. Of course the main purpose for my visit to the station was to promote Saturday's show at
Skipper's Smokehouse
. I hope to see all my Tampa family and friends there at 8PM, January 16, 2010!

JANUARY 6, 2010 | NEW YEAR, NEW ALBUM, NEW SITE
2010 is here! I can't believe it. For me, this year is going to be all about sharing the music made in 2009 (it was a great year for music-making). That starts with "The World Should See Her Face", the 8-song EP recorded during my five months in Rwanda. Watch the video below for a preview of the new songs and a glimpse of life in the Land of a Thousand Hills, then buy your copy right here via PayPal. And check out the upcoming shows, the new EP and "Songs About Falling" will be heard on the radio and stage in Tampa in January and then at the Living Room in NYC in February. 2010 is looking pretty incredible already.

JULY 5TH, 2009 | GREETINGS FROM RWANDA
Hello all!
I am in Rwanda until the end of the year. I cannot wait to return with stories and songs to share. Until then, keep up with me on
Twitter
and my
Rwanda Blog
. See you in December!
Urukundo (Love),
Ashley

A NIGHT OF MUSIC FOR RWANDA
New Yorkers, please join me and my amazingly talented friends Monday, June 29th, for a night of music for Rwanda. It's sure to be a night to remember with so many incredible performances! Suggested donation of $10 (with more chances to give throughout the night). All money will benefit making music with the young people of Rwanda. Read more about my six months in Africa
here
. Click
here
for more event details.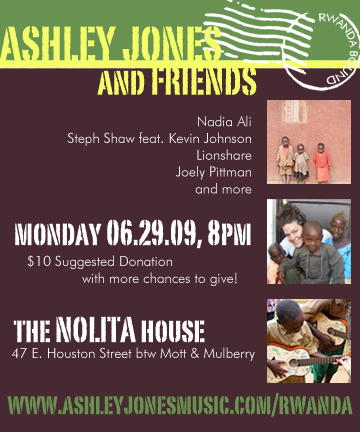 SAVE THE DATE ::
Songs About Falling
CD Release Party
Saturday, March 14th, 2009
NEW ALBUM + Food, Drinks, Live Music & Dancing...
Doors Open at 7:30 PM
219 Sullivan Street, NYC
Come celebrate the release of
Songs About Falling
! It's going to be an amazing night sponsored by City Grace in the Children's Aid Society Auditorium.
View Larger Map

Friday, September 12, 2008 :: In the Studio, New Album Soon!!
Yesterday was the first day of actual recording. I'm recording six songs in Brooklyn with Mike Beck of Secret Society Music. So far it's been a lot of fun, and I am so excited about getting these songs recorded...finally!

Here's a peek in the studio...


Thursday, August 14, 2008 :: Meeting Martin & Uwamubona
This is a video I put together about my trip to Rwanda back in February. It's all a part of a campaign to get more children sponsored in the same villages where my sponsored child are. UPDATE: Please visit
this website
for more information or to begin sponsoring a child.

Wednesday, May 14, 2008 :: New Kids on the Block
So for anyone who isn't signed up on the
NKOTB.com
email list (or didn't found out some less embarrassing way), New Kids on the Block are back in action. They're new single
"Summertime"
was just released this week, and I could not be happier.
You see, I tried to play it cool when I first heard about the New Kids reunion. I tried to act like it wouldn't effect me -- I'm too old for New Kids now, right? Apparently not. As soon as I saw the new photos for their upcoming album, it was like I was 10 all over again...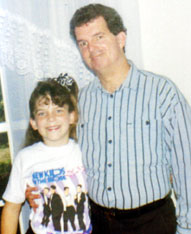 This photo was taken right before I saw New Kids on the Block in concert -- or what my dad always referred to as the night he lost his hearing. Literally. He swore that he never heard the same after a night of tween-age girls squealing for an hour or two. It was a sacrifice I always got the feeling he was happy to have made.
Enduring hearing loss wasn't the only thing my dad did for me that night... Our seats were way in the back -- I could barely see. I remember begging him to ask the people sitting beside us to borrow their binoculars. Instead, being the wise and resourceful man that my dad always was, he surveyed the arena for a better spot. We ended up sneaking into one of the side sections where we were right over the stage. He found us the best seats in the house.
It's because of memories like this one -- or like my New Kids birthday party complete with NKOTB wrapping paper on my gifts or a countless number of slumber parties in my New Kids sleeping bag -- that I'm finding myself listening to their new single on repeat. And while their music may not have been a model for my own, it's still
music that has inspired me
.
There's something powerful about music that way. How it can transport us like a time machine to our childhood. At least that's what this whole New Kids on the Block reunion has been doing for me the past couple of days. And be warned, I still have the shirt I'm wearing in the photo. Don't think for second I wouldn't put that bad boy on again...

Sunday, March 16, 2008 :: I Left My Heart in Rwanda
It's been two weeks now since I returned from Rwanda. I figure it's about time for a blog...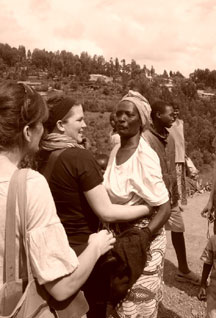 I knew before this trip even began that it would change my life, but I could not have planned for how this place and these people would steal my heart. In a country mainly associated in our world by genocide and AIDS, I witnessed so much love, so much hope and so much beauty. I was literally swept off my feet.
Love in Rwanda is overflowing. They are affectionate people. On our first full day in Nyamegabe, the village where we worked on a house and where my sponsored kids live, we visited a woman whose house was built last year by some of the members of our team. She wasn't home when we got there but arrived shortly after. This was my first time to Rwanda. I had never met this woman before. But when she arrived at her home and recognized the people I was with as the people who put a roof over her head, she hugged me as if we were reunited family. It was amazing. Literally this woman hugged me for a solid minute (try hugging someone you've only just met that long...it's a long time) speaking words I couldn't translate but understood completely.
Another incredible moment was at a hospital we visited. I've spent a lot of time over the past five years in hospitals. And even though I was in Africa, I certainly had an idea in my mind of what we would see when we got to the one there in Butare. Much of what we saw was exactly how I'd pictured, men and women with AIDS, children needing nutrition, but what I wasn't expecting to see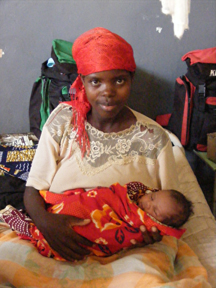 were the newborn babies. There in the maternity ward, wrapped in the most beautiful African fabrics, were these tiny little lives only hours old. One family passed their little one around so that I could take each of their photos with the newborn. There was so much hope in that room, in those new lives. This is the image in my mind now when I think about the future of this country.
The beauty of Rwanda was the thing that struck me the most but was also the most frustrating because it could not be fullycaptured on film. I'd stick my head out of the window of the car to take a photo of these breathtaking landscapes (each one in steep competition with the last to be named the most beautiful), but when I'd go back and look at them it just wasn't the same. There was a depth that just could not be captured. But when I went back and looked at every picture of every child that I met along the way I realized that the beauty I was trying to capture in those hills was right there in those big brown eyes, in the smiles, in the laughter. And those pictures are the ones I still can't get enough of now two weeks later.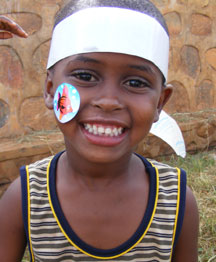 This is Erica. I met her in an orphanage in Kigali. We bonded over a harmonica. We shouted, "Tugende" ("Let's Go") together as I ran her around in circles. I would have carried her home that day if I could have. Her face is a constant in mind now, it's even the wallpaper on my phone. Not because I could ever forget it, but because her face takes me immediately to those hills where I fell in love filled with such hope surrounded by so much beauty.
There are so many more stories to share from this experience. I'm sure I'll be telling them for years to come. And there have already been two new songs written that were inspired by my time there in Rwanda, one about falling in love with this place and these people and the other about the love and hope that exists in a place so many only associate with the genocide. I hope to have recordings of these new songs soon because the story of Rwanda is one I cannot wait to share.
I want to say thank you to everyone who made this trip possible for me. Many family members and friends made donations on my behalf for travel expenses and to go toward the building costs of two homes. And many of you in New York came out to Harmony & Love, A Benefit Concert for Rwanda, to raise money for other expenses including two guitars that were donated to a vocational school for street kids. Check out the photos here on MySpace and on
Flickr
.
One thing I know for sure, I'll be back in Rwanda someday. So more to come...